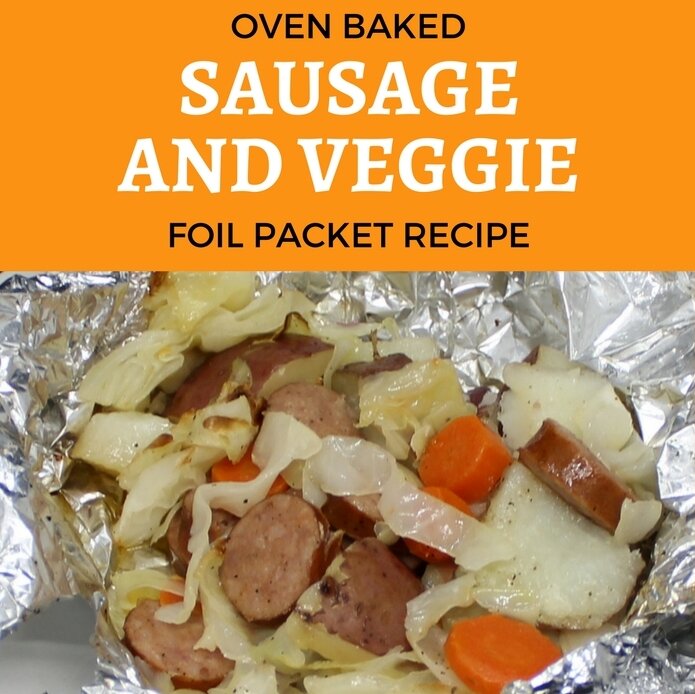 Who says making dinner has to be time consuming and labor intense? With foil packet recipes, it doesn't have to be!
But aren't foil packet meals for when you go camping? Don't you make foil packet recipes on the grill? Foil packet recipes are great on camping trips and grilling them is wonderful in the summer, but here in the north, grilling isn't a year round sport. Not to mention, sometimes you just want the summer grilled food taste without having to fire up the grill. So let me introduce you to a foil packet recipe that you can bake in your oven!
Ingredients
1 lb Polish sausage, sliced
1/2 head of cabbage, sliced
2 carrots, peeled and sliced
4-6 medium sized red potatoes, cut to bite size (about 1 cup per packet)
1 Tablespoon of butter per packet
A pinch of onion powder per packet
A pinch of garlic powder per packet
Salt & pepper to taste
(makes 4 foil packets)
One of the things I love about foil packet recipes when we go camping is that they are so easy to make and you can utilize what ingredients you have on hand. The method of cooking them doesn't change that! For our sausage and veggie foil packet recipe I literally looked around my kitchen for things to throw in the foil. I had some sausage in the fridge and some veggies that would pair nicely. This recipe, as can most foil packet recipes, can be adapted to what you have on hand or enjoy eating.

To make our sausage and veggie foil packets, I sprayed four 12 x 18 inch sheets of foil with a light coat of non-stick cooking spray. I pre-chopped everything and then divided it equally between the foil that would become the packets.
I loaded each foil up with polish sausage, carrots, potatoes, and much to the country kids' disappointment, cabbage. Sorry kids, this mama loves her some cabbage! Once the meat and veggies are in, it's time to season your packets.
I place a tablespoon of butter on top of my sausage and veggies. I then sprinkle the salt, pepper, garlic powder and onion powder on top. As the butter melts it will carry those spices through the other ingredients. I am not a big hunks of garlic and onion kind of girl, but you can totally sub in fresh minced garlic and sliced onion to taste in this recipe. Foil packet recipes are fun because they are so simple and you can totally play with what ingredients you put in them.
Once your ingredients are all in, seal the edges of the packet well by rolling and pressing the edges. You don't want the moisture to leak out, leaving your food dry and tasteless!
You will cook your foil packets at 400 degrees for around 40-50 minutes or until your potatoes are fork tender. Cook time can vary depending on the size of your potato pieces.
I like to put my packets on a cookie sheet just to make handling them easier. Once the packets are done cooking, let them sit for a few minutes before serving. Remember hot steam may come out when you open them, so open them away from your face. Can you tell I have had to say this to kids before?!?
And do you know what makes this recipe (and all foil packet recipes) taste better? The fact they can be served in their foil and makes clean up a breeze! Think about it, you used a knife to cut stuff up, but other then that!?!? No pots, pans, or plates to wash when you're done!
Okay, I did put mine on a plate to take pictures, but it was only so it looked pretty.